Confronta il noleggio auto a Los Angeles
Confronta i prezzi delle società di noleggio auto a Los Angeles e prenota un'auto a buon mercato per la tua vacanza nella città degli angeli. Su Car rentalCheck, è possibile confrontare i prezzi di tutte le principali società di autonoleggio a Los Angeles. Così troverete auto a noleggio più economiche in città che se avete appena guardato una società di noleggio auto direttamente. Se prendete la vostra auto a noleggio all'aeroporto di Los Angeles, sarete mobili in California fin dall'inizio della vostra vacanza.
Scoprire Los Angeles con una macchina a noleggio
Los Angeles è la seconda città più grande della regione USA. Si trova sulla costa occidentale, nello stato della California, direttamente sull'Oceano Pacifico. Los Angeles è il più importante centro economico e culturale della California e conosciuta a livello internazionale per la sua industria cinematografica hollywoodiana. Con Venice Beach, Los Angeles ha una delle spiagge più popolari della costa del Pacifico. Musicisti, pittori e artisti si incontrano lì e formano un trambusto colorato. La colonia di Malibu è anche conosciuta in tutto il mondo perché vi abitano molte celebrità. Da Los Angeles si può fare un bel viaggio in moto sulla Route 1 a nord verso San Francisco o Fresno.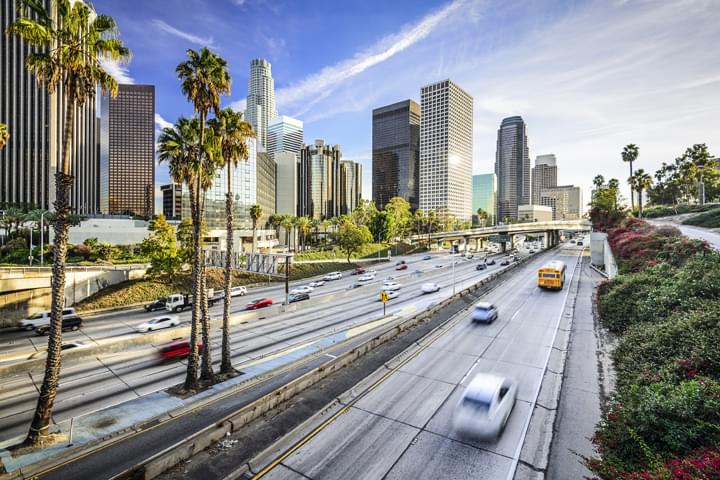 Il traffico nella città di Los Angeles, California.
Noleggio auto ed esplorare le attrazioni di Los Angeles
Non dovreste perdervi queste attrazioni quando visitate Los Angeles:
Il Parco Griffith
Escursione al Parco Nazionale dello Yosemite
Il museo d'arte della contea di Los Angeles
La villa Getty
Il mercato contadino
Esplora Los Angeles con un autista ausiliario per il noleggio auto
Soprattutto se si prevede di coprire lunghe distanze con la vostra auto a noleggio a Los Angeles, l'opzione driver aggiuntivo si offre. È possibile registrare uno o più autisti aggiuntivi presso la società di noleggio auto e avere così la possibilità di alternarsi durante la guida. A causa delle grandi distanze tra le città e le attrazioni turistiche USA , un ulteriore autista è particolarmente adatto a questo scopo. Così si può anche ammirare il paesaggio unico durante il viaggio. Alcune società di autonoleggio addebitano un costo aggiuntivo per l'opzione conducente aggiuntivo. Tuttavia, nel confronto dei prezzi su MietwagenCheck troverete molte offerte in cui uno o più driver aggiuntivi sono già inclusi gratuitamente.
Noleggio Auto Los Angeles - Il giusto sistema di controllo del carburante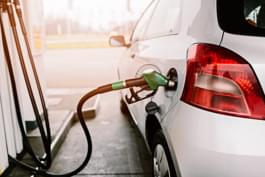 Selezionare la regolazione del serbatoio pieno/pieno.
La politica del carburante per la vostra auto a noleggio a Los Angeles può variare a seconda dell'auto a noleggio scelta. In generale si può dire che la regolazione del serbatoio Full / Full è la più bella. Si accetta l'auto a noleggio con il serbatoio pieno dalla società di noleggio auto e restituirlo con il serbatoio pieno. Alcuni locatori offrono anche il regolamento serbatoio pieno / vuoto, qui si dà l'auto a noleggio alla fine con un serbatoio vuoto di nuovo al proprietario. La società di noleggio riempirà l'auto per voi e vi farà pagare per questo.
Con l'auto a noleggio per le destinazioni intorno a Los Angeles
La California e soprattutto la metropoli di fama mondiale di Los Angeles offrono innumerevoli attrazioni e punti di interesse. Tuttavia, durante un soggiorno a Los Angeles vale anche la pena di andare su una o l'altra escursione in auto a noleggio in altre città o luoghi da vedere. Abbiamo compilato una selezione per voi:
| destinazione | Distanza in auto a noleggio da Los Angeles |
| --- | --- |
| San Diego | 200 km |
| San José | 547 km |
| Las Vegas | 434 km |
| San Francisco | 625 km |
| Parco Nazionale Joshua Tree | 210 km |
Prenota gli extra giusti per il tuo noleggio auto a Los Angeles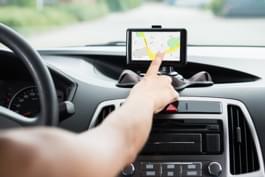 È inoltre possibile prenotare gli extra direttamente online.
Se si viaggia in una grande città come Los Angeles per la prima volta con un'auto a noleggio, è consigliabile prenotare extra come un sistema di navigazione al momento del noleggio. Perché con esso si è flessibili in città e ambiente sulla strada e trovare la strada giusta nel trambusto della grande città.
Nel confronto dei prezzi, è possibile aggiungere ulteriori extra alla vostra auto a Los Angeles semplicemente al momento del noleggio alla voce "Caratteristiche extra". Ulteriori extra per la vostra auto a noleggio a Los Angeles possono includere un seggiolino per bambini e un seggiolino GPS auto.
Noleggio auto Los Angeles - Le regole del traffico più importanti
Se si guida un'auto a noleggio a L.A. e dintorni, è necessario prestare attenzione alle più importanti regole del traffico. È inoltre possibile ottenere informazioni in merito da parte del padrone di casa al momento del ritiro dell'auto a noleggio. Si noti che le infrazioni all'eccesso di velocità sono punibili in alcuni casi USA con multe elevate. Si dovrebbe essere a conoscenza di queste regole del traffico quando si visita Los Angeles:
Non trasportare bevande alcoliche aperte in auto

I pedoni hanno la priorità nel traffico stradale

Girare a destra al semaforo con una freccia verde consentita

Il sorpasso è consentito su tutti i binari

Gli scuolabus hanno sempre la precedenza

Nessun parcheggio su idranti
In auto a noleggio attraverso Los Angeles e Hollywood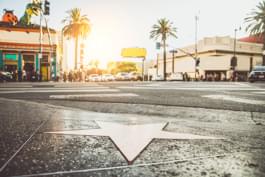 Scoprire Hollywood con la vostra auto a noleggio.
Los Angeles e le sue numerose attrazioni sono meglio esplorate con la propria auto a noleggio. Ci sono tra gli altri Hollywood Boulevard, il Chinese Theater at the Hollywood Boulevard, la Walk of Fame, gli Universal Studios o il Disneyland vicino a Los Angeles.
Guidare la vostra auto a noleggio passato il famoso lettering di Hollywood e godere la vista.
Escursione in auto a noleggio al Parco Nazionale di Yosemite
Con il noleggio auto dal confronto dei prezzi si sono indipendentemente sulla strada, e può decidere così per esempio spontaneamente per una visita nel parco nazionale dello Yosemite in California. Situato a circa 340 chilometri a nord di Los Angeles e vicino a San Francisco, offre l'opportunità di fare escursioni e scoprire la natura unica. Oggi, il Parco Nazionale è patrimonio dell'umanità dell'UNESCO e offre un'abbondanza di laghi, fiumi, sentieri escursionistici e cascate da scoprire e sperimentare.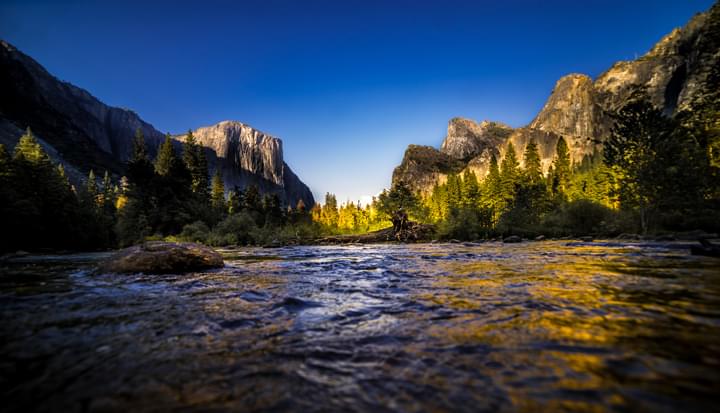 Il Parco Nazionale dello Yosemite