Con il noleggio auto New York ed USA esplorare il
E' la città che non dorme mai. New York è veloce. New York ti toglie il fiato. New York e' semplicemente fantastica. Nella parte orientale dell'omonimo USA stato, luoghi di fama mondiale come la Statua della Libertà vi aspettano per essere esplorati da voi. Con Car RentalCheck è possibile confrontare le offerte delle società di autonoleggio di New York e prenotare facilmente un'auto a noleggio per New York online.
Qual è il posto migliore per noleggiare un'auto a New York?
Nella città di New York, innumerevoli compagnie di autonoleggio vi aspettano con le loro offerte. Anche ai tre Flughäfen New York JFK (JFK), New York La Guardia (LGA) e Newark New Jersey (EWR) è possibile ottenere un'auto a noleggio. È possibile noleggiare un'auto a buon mercato direttamente sul posto. Perché la concorrenza è grande qui! In questo modo aumenteranno le vostre possibilità di trovare un'offerta favorevole. Un altro vantaggio è l'orario di apertura più lungo in aeroporto e la migliore disponibilità di veicoli speciali come le cabriolet, le auto sportive o i SUV.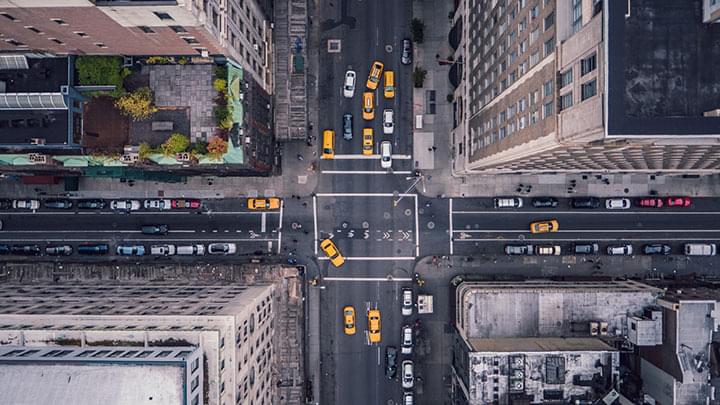 Quinta Strada, New York City.
Vantaggi del noleggio auto in aeroporto:
offerte di noleggio auto a buon mercato
orari di apertura più lunghi
migliore disponibilità di veicoli
C'e' un pedaggio in USA quello?
In queste USA zone ci sono generalmente solo poche strade a pedaggio. Tuttavia, New York appartiene a uno degli Stati con un numero relativamente elevato. Più di 30 strade a pedaggio, gallerie e ponti aspettano qui. New York City e il valico di frontiera con il Canada alle cascate del Niagara e intorno a Bufallo sono le conurbazioni. Le strade a pedaggio sono riconoscibili dalla segnaletica Toll Road. Nella maggior parte dei casi è possibile pagare senza contatto con un transponder, che dovrebbe essere presente nell'auto a noleggio. Il pagamento in contanti è possibile anche al bancomat. Avere qualche spicciolo e 25 centesimi (i cosiddetti quarti) pronti. Il calcolo si basa sul numero di assi e su altri fattori.
Dove posso parcheggiare l'auto a noleggio a New York?
New York è la città più densamente popolata del mondo USA. La metropoli non offre molti posti auto e i parcheggi a più piani sono molto costosi - 50 USD per un giorno non fanno eccezione. I posti auto sulla strada sono solitamente riservati ai residenti. Manhattan in particolare ha una situazione di parcheggio estremamente difficile. Se avete ancora il coraggio di noleggiare un'auto, è necessario seguire le indicazioni per la pulizia delle strade. Questo di solito succede due volte a settimana. Dopo la pulizia, ci vuole circa mezz'ora prima che tutti i posti auto siano nuovamente occupati. Questa finestra temporale è il modo migliore per ottenere un parcheggio con un'auto a noleggio a New York. Al di fuori dei parcheggi a più piani, è previsto un divieto generale di parcheggio degli idranti (deve essere mantenuta una distanza di almeno tre metri) e nelle aree contrassegnate in rosso, nonché alle fermate degli autobus.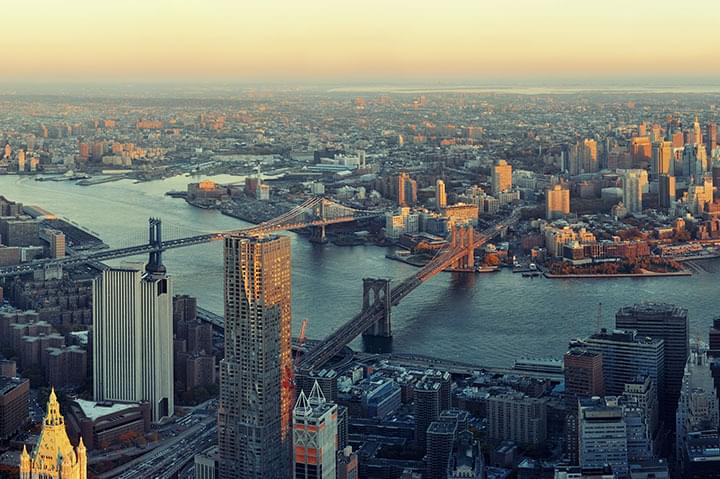 New York City e il fiume Hudson
Quali sono le velocità massime nel USA?
Ulteriori informazioni sulla guida nel dominio USA:
Il limite per mille nello stato di New York è di 0,8, ma in alcuni stati è di 0,0, quindi dovresti sempre controllare con gli stati vicini quando guidi la tua auto a noleggio. Le violazioni sono USD punite anche al limite inferiore con 10 giorni di prigione e diverse 100 giorni di carcere. Inoltre, le bevande alcoliche aperte non possono essere trasportate nella cabina del conducente, ma solo nel bagagliaio. Nella maggior parte dei casi la patente di guida europea è sufficiente USA , ma in singoli casi è necessaria anche una patente di guida internazionale. Si consiglia pertanto di farne richiesta prima della partenza. Di solito ci vuole una settimana. Non è necessario un controllo supplementare. In caso di guasti all'auto o di un incidente con la vostra auto a noleggio, dovete USA sempre prima contattare il proprietario e concordare come procedere.
Quanto sono costose le violazioni di eccesso di velocità nel USA?
Di quale assicurazione ho bisogno per la mia auto a noleggio a New York?
Con un'auto a noleggio non fa alcuna differenza in quale paese si noleggia il veicolo. Per la propria protezione, si dovrebbe sempre scegliere "assicurazione casco totale senza franchigia". Inoltre, è necessario prestare attenzione a un importo di copertura di responsabilità civile elevato. La responsabilità civile dovrebbe coprire almeno un milione di euro di danni, meglio ancora di 7,5 milioni di euro.
Come includere un driver aggiuntivo per l'auto a noleggio:
Coloro che non vogliono trascorrere tutto il tempo del soggiorno a New York e da USA soli al volante, possono avere un autista aggiuntivo per il noleggio auto incluso nel prezzo dell'auto a noleggio. Di solito è richiesta una piccola tassa aggiuntiva, un prezzo che spesso viene addebitato per ogni giorno di noleggio. Tuttavia, ci sono anche offerte che includono un driver aggiuntivo gratuito, anche qui un confronto online è utile in anticipo.
Rifornimento: tutto sul carburante!
La ricerca di un distributore di benzina a New York City non è sempre facile. Il numero è diminuito negli ultimi anni. Generalmente, le stazioni di servizio sono USA normalmente aperte 24 ore su 24. Si consiglia di chiedere che carburante è necessario quando si prende la vostra auto a noleggio. Le denominazioni sono diverse da quelle tedesche: 87 ottani corrispondono a benzina normale e 91 ottani sono quelli che noi chiamiamo super. In America, il calcolo non è fatto in litri, ma in galloni. Un gallone corrisponde a circa 3,8 litri.
Scoprire New York e la zona circostante con auto a noleggio
New York ha un punto culminante dopo l'altro da offrire. Musei famosi in tutto il mondo come il Museo d'Arte Moderna o il Metropolitan e icone come la Statua della Libertà e l'Empire State Building, che ogni bambino conosce dai libri e dalla televisione, sono qui in fila. Passeggiate per Central Park e ammirate il tramonto sullo skyline più famoso del mondo. Visitate questi luoghi e vivete la città che non dorme mai in prima persona.
Statua della Libertà di fronte allo skyline di New York City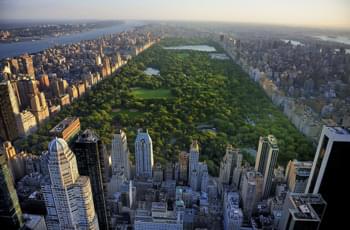 Parco Centrale
Punti salienti di New York:
Central Park - Probabilmente il parco più famoso al mondo
Ground Zero - Il luogo in cui si trovavano le Torri Gemelle fino all'11 settembre 2001.
Il Museo di Storia Naturale
Il Museo d'Arte Moderna o semplicemente MoMA
Il Museo Metropolitano
High Line - Un collegamento ferroviario merci in disuso che è stato trasformato in un parco.
Il ponte di Brooklyn
La statua della libertà
Stazione Centrale
Top of the Rock
L'Empire State Building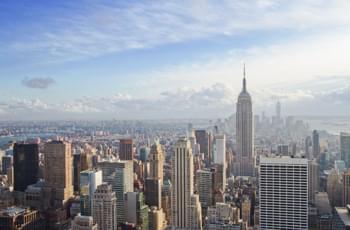 Vista dello skyline di New York City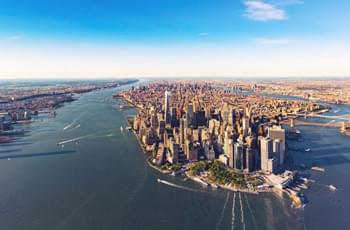 Manhattan
Escursioni con auto a noleggio nei dintorni di New York
Noleggia un'auto a New York ed esplora la zona di New York con essa! Perché con una macchina a noleggio si ha anche l'opportunità di conoscere i meravigliosi dintorni di New York. Destinazioni come Boston, Philadelphia e Washington D.C. dovrebbero essere in cima alla lista. È inoltre possibile visitare le cascate del Niagara Falls da New York con la vostra auto a noleggio. Destinazioni escursionistiche particolarmente belle ed interessanti, che potete raggiungere grazie al noleggio auto, vi abbiamo elencato nella seguente tabella con i dati della distanza:
Godetevi la metropoli mozzafiato con piena indipendenza ed esplorate anche altri luoghi famosi in tutto il mondo.