Esplora San Francisco a buon mercato: Viaggiare in auto a noleggio in California
Noleggia un'auto a San Francisco ed esplora la bellissima città di Flower Power. Con una macchina a noleggio a San Francisco, siete flessibili sia in città che nei dintorni. Nel nostro confronto dei prezzi di noleggio auto troverete una vasta gamma di offerte. Lavoriamo con tutte le maggiori compagnie di autonoleggio della città.
San Francisco si trova sulla punta di una penisola tra l'Oceano Pacifico e la baia di San Francisco. La "City by the Bay", come viene chiamata sulla costa occidentale della California, è una delle città più diverse e diversificate d'America. La sua vicinanza alla Silicon Valley ne fa una roccaforte della moderna tecnologia dell'informazione. Allo stesso tempo, i visitatori di Piazza Alamo possono ammirare le Dame Dipinte, file di case ottocentesche accuratamente restaurate. Anche il movimento della potenza dei fiori è ancora vivo in città, soprattutto nella zona di Haight-Ashbury. La spaziosa China Town of San Francisco vi porta in un mondo completamente diverso. Una visita alla città vicino alla baia è una buona idea per un viaggio di andata e ritorno attraverso l'intera Bay Area e l'area circostante. Redwood National Park e le aree vinicole della Sonoma Valley e Napa Valley sono alcuni dei luoghi da vedere che si possono raggiungere rapidamente con un'auto a noleggio.
Autonoleggio San Francisco: Arrivare in aereo?
Se vuoi essere il più flessibile possibile quando ritirare la tua auto a noleggio, ti consigliamo i seguenti aeroporti della zona di San Francisco:
Esplora San Francisco: il ponte Golden Gate Bridge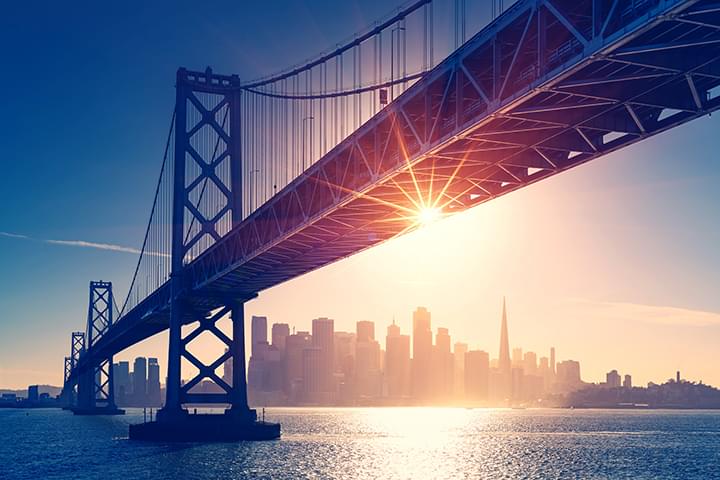 La vista mozzafiato sulla baia con il Golden Gate Bridge appartiene ad un soggiorno a San Francisco. In posizione strategica per questo progetto è Baker Beach, una delle spiagge più popolari della città. Un consiglio segreto sono le passeggiate lungo Lover's Lane a Presidio o la passeggiata di Eagle's Point a Lands End, all'estremità settentrionale della penisola. Un'altra possibilità è la piattaforma panoramica del Museo de Young, accessibile gratuitamente.
Esplorare con una macchina a noleggio: Alcatraz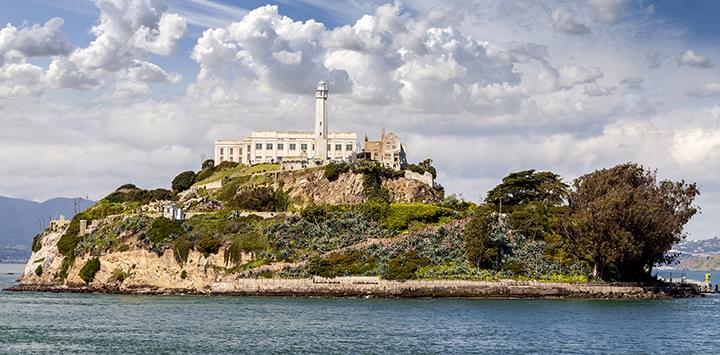 Una visita alla famigerata isola del carcere è uno dei tour turistici più popolari a San Francisco. Si consiglia quindi di prenotare in anticipo il biglietto per la gita in barca sull'isola. Oggi Alcatraz è una riserva ornitologica. C'è un museo sul sito dell'ex carcere di massima sicurezza. Le visite guidate sono offerte anche come visite notturne.
Luoghi di interesse San Francisco: Offerte per grandi e piccini
San Francisco è una città d'arte, scienze e musei. Qui ogni visitatore troverà attrazioni di suo gradimento. I principali musei includono il San Francisco Museum of Modern Art, l'Asian Art Museum e la California Academy of Sciences. Il Wells Fargo History Museum offre interessanti informazioni sulla storia della California. Il Walt Disney Family Museum ispira gli appassionati di tutte le età. Per gli amanti della natura, l'Acquario della Baia è aperto con oltre 20.000 animali provenienti dai dintorni marittimi di San Francisco.
Viaggiare in auto a San Francisco: visita al porto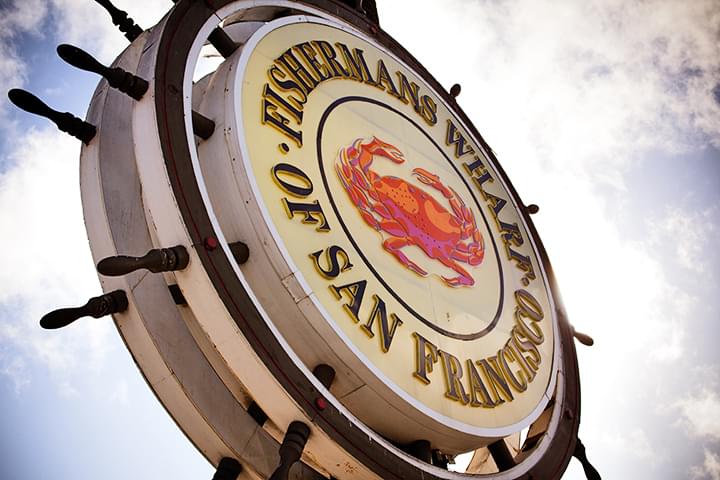 Una visita a San Francisco include un'escursione al Marina District, il quartiere portuale della città. Qui troverete Fisherman's Wharf con molte attrazioni turistiche. Al molo 39 potrete ammirare le colorate offerte dei negozi di souvenir e della colonia di leoni marini. L'auto a noleggio può essere comodamente parcheggiata in uno dei parcheggi multipiano del quartiere.
Prenotare un'auto a noleggio in California: Come funziona la cauzione
Per il noleggio di un veicolo a noleggio è richiesto un deposito cauzionale. L'importo varia e dipende, ad esempio, dal fornitore, dall'equipaggiamento dell'auto a noleggio o dal paese di destinazione. Il deposito cauzionale fornisce al noleggiatore una garanzia in caso di danni o di violazione del contratto. Di norma, l'acconto viene pagato con carta di credito. È importante che il titolare della carta sia il conducente principale, non un conducente aggiuntivo. In singoli casi, può essere richiesta una cauzione in contanti al momento del ritiro del veicolo in aeroporto.
Confronta le offerte e noleggia un'auto a basso costo assicurativo
Quando si noleggia un veicolo a noleggio, è necessario assicurarsi di avere un'adeguata assicurazione. I danni all'auto a noleggio devono essere completamente coperti e l'assicurazione scelta deve garantire una copertura di responsabilità civile sufficiente. Può essere decisivo se si prenota online in anticipo o presso l'aeroporto di noleggio auto. Le offerte americane di solito includono meno copertura assicurativa nel prezzo base.
Per alcuni stati dell' USA assicurazione ci sono regolamenti speciali.
In California, ad esempio, la copertura della responsabilità civile è spesso limitata ad un premio minimo. Si prega di notare che in determinate circostanze la copertura assicurativa scade. Pertanto, leggere attentamente il contratto di noleggio auto. Possibili violazioni delle condizioni contrattuali sono la guida in stato di ebbrezza, la guida su strade non asfaltate o la guida all'estero.
Noleggio auto in California: Completamente completo senza eccessi
In America, l'abbreviazione CDW è utilizzata per una copertura totale. Il contratto specifica quali danni sono coperti in dettaglio dall'assicurazione. Ci sono offerte come assicurazione casco totale senza franchigia o con franchigia. È vantaggiosa un'assicurazione casco totale senza franchigia, nella quale non dovete sostenere alcun costo in caso di danno. Nel caso di assicurazione completa senza eccesso, vale la pena di confrontare le offerte, soprattutto se si noleggia l'auto in aeroporto prima.
Registrare un driver aggiuntivo per l'auto a noleggio
Soprattutto nei tour più lunghi con un'auto a noleggio è pratico se più persone possono alternarsi durante la guida. Ricordarsi di registrare tutti i driver aggiuntivi quando si ritira l'auto a noleggio all'aeroporto. Se si lascia guidare un conducente non registrato, non si ha copertura assicurativa in caso di incidente. I conducenti supplementari devono presentare una carta d'identità o passaporto e una patente di guida valida al momento dell'iscrizione. Ci sono offerte di noleggio auto in cui i driver aggiuntivi possono essere registrati gratuitamente, altri sono a pagamento.
Prenotare un'auto a noleggio a San Francisco con noleggio a senso unico
Se state progettando un viaggio più lungo con l'auto a noleggio dall'aeroporto e quindi non tornare alla sua posizione originale, questo è indicato come un noleggio a senso unico. L'affitto a senso unico è gestito in modo diverso dai singoli fornitori. Una grande società di noleggio auto con molte stazioni ha più facile da offrire noleggi a senso unico a prezzi bassi rispetto ai fornitori più piccoli. Come regola generale, è necessario aspettarsi costi aggiuntivi per un noleggio a senso unico. Alcuni proprietari americani offrono USA gratuitamente alcuni itinerari all'interno della struttura.
Viaggiare in auto a San Francisco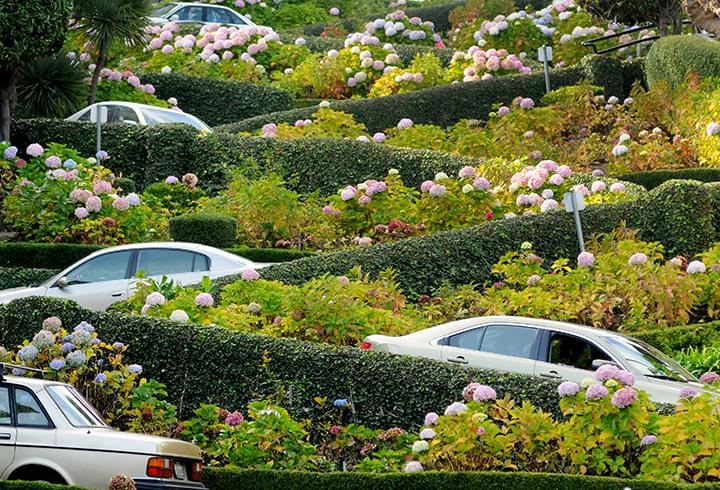 Coloro che lasciano l'aeroporto in un'auto a noleggio ed entrano in città saranno accolti da un viavai di auto, camion, taxi e funivie. Alcune parti della città sono molto collinari e sinuose. Lombard Street è famosa, ma è considerata la strada più tortuosa del mondo. Filbert Street e 22nd Street hanno un gradiente di circa il 31,5%.
Quali sono le regole del traffico a San Francisco e in California?
L'obbligo generale di indossare la cintura di sicurezza si applica

Il limite per mille è di 0,8 per mille.

Con il rosso è consentita una svolta a destra, a meno che non sia esplicitamente vietata da un cartello aggiuntivo.

Intersezioni con il cartello "4 Way" o "All Way": qui ogni autista deve fermarsi prima di tutto, poi chi ha raggiunto per primo l'incrocio è autorizzato a guidare.

Gli scuolabus con luci lampeggianti non devono essere revisionati.
Qual è il limite di velocità a San Francisco?
| strade | Limite di velocità in mph | Limite di velocità in km/h |
| --- | --- | --- |
| All'interno delle città e dei villaggi | 25 - 30 mph | 40 - 50 km/h |
| Fuori dalle città e dai villaggi | 55 - 65 mph | 90 - 110 km/h |

Ci sono delle regole speciali per parcheggiare a San Francisco:
Se il marciapiede è contrassegnato con un colore, si può vedere se è possibile fermarsi o parcheggiare a questo punto. Si prega di prestare attenzione a questi contrassegni in modo da evitare inutili problemi.
| marcatura a colori | rilevanza |
| --- | --- |
| Giallo | area di carico |
| Nero | area di carico |
| Bianco | Zona di sosta per 5 minuti durante l'orario di lavoro |
| ecologica | Zona di carica/di mantenimento per 10 minuti |
| rosso | Non si ferma affatto |
A causa della pendenza di San Francisco, l'auto deve essere sempre parcheggiata in modo che le ruote siano girate in direzione del marciapiede.
Pedaggio ponte nell'area della baia
Nella Bay Area ci sono otto ponti, che possono essere utilizzati in auto a pagamento. Di solito, il pedaggio viene addebitato solo per una direzione in corrispondenza dei ponti. La tariffa può variare a seconda del giorno della settimana e dell'ora del giorno. Si consiglia di chiarire con la società di noleggio auto come viene calcolato il pedaggio. In parte c'è la riscossione automatica del pedaggio, in parte il pagamento in contanti. Il pagamento in contanti non è più possibile al Golden Gate Bridge.