Noleggio auto Illinois: Scoprire la terra di Lincoln
Il modo migliore per esplorare l'Illinois è in auto a noleggio. Trova l'auto dei tuoi sogni su Car rentalCheck e visitare tra le altre cose la terza città più grande di USAChicago. Con un'auto a noleggio sei sempre flessibile e puoi esplorare lo stato da solo. Iniziate il vostro viaggio sulla famosa Route 66 o percorrete il Mississippi. Un viaggio al lago Michigan dovrebbe essere sulla vostra lista. Prenota la tua auto a noleggio in anticipo online su MietwagenCheck e iniziare il vostro viaggio attraverso l'Illinois pieno di attesa.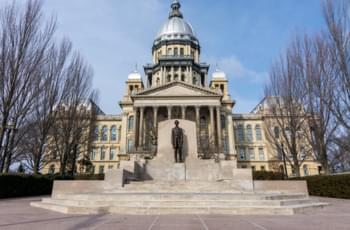 Statua di Abraham Lincoln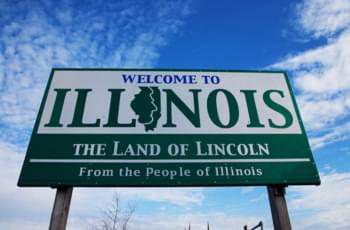 Benvenuti a Illinois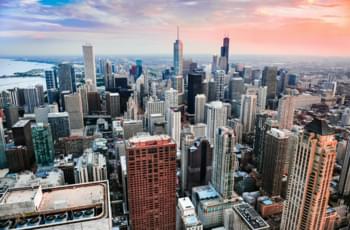 Vista su Chicago
Autonoleggio Illinois: qui si ottiene la vostra auto a noleggio
In Illinois è possibile prenotare un'auto a noleggio in quasi tutte le città. Nella tabella sottostante troverete una piccola selezione di luoghi dove è possibile ritirare la vostra auto a noleggio e la loro distanza dalla capitale Springfield: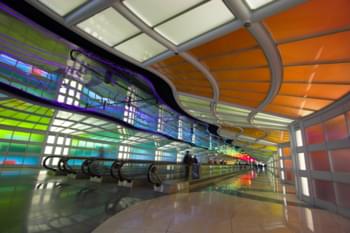 Sulla strada all'aeroporto di Chicago
È inoltre possibile ritirare l'auto a noleggio direttamente presso uno dei seguenti aeroporti:
Mai sentito parlare dell'affitto a senso unico?
Un viaggio in macchina di solito termina in un luogo diverso da quello in cui inizia. Con MietwagenCheck avete la possibilità di noleggio a senso unico. Prendere l'auto dei vostri sogni al punto di raccolta di vostra scelta e iniziare la vostra avventura attraverso l'Illinois. Si può facilmente restituire l'auto a noleggio in un'altra località. Così si è sempre flessibile in Illinois e può guidare con la vostra auto a noleggio per le vostre destinazioni desiderate.
Pensate ad un'assicurazione casco totale senza franchigia! In questo modo, anche in caso di danni, non c'è alcuno stress!
Esplorare le città più popolari dell'Illinois con una macchina a noleggio
Chicago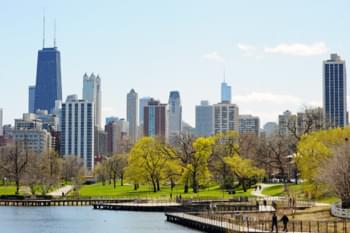 Skyline Chicago, Illinois
Chicago impressiona con uno spettacolare skyline proprio sul lungomare, il Millennium Park nel cuore della città e il popolare Magnificent Mile shopping mile. Non solo gli amanti dell'architettura hanno qui i loro soldi, ma anche gli amanti della natura e dello shopping. Immergetevi nel fascino della grande città di Chicago e godetevi una passeggiata lungo i 42 chilometri di lungomare. Ti dà una pura sensazione di vacanza. La "Città del vento" è sede di molti grandi musei, tra cui l'Art Institute of Chicago. Se ti piace uscire a cena fuori, troverai sicuramente il posto giusto al Navy Pier. Non vedo l'ora di andare a Chicago!
Springfield
C'è così tanto da vedere e scoprire a Springfield! Noleggia un'auto e naviga lungo la Route 66. Godetevi una gita di shopping, una partita a golf, un giro di golf, una danza con musica dal vivo o una passeggiata nella natura dell'Illinois. Non ci sarà la noia a Springfield.
Rockford
Cosa rende Rockford così speciale? E 'la miscela di atmosfera urbana e fascino rurale. Rockford si trova a circa un'ora di macchina a noleggio da Chicago ed è situato in una campagna collinare idilliaca. La città è anche soprannominata "La città dei giardini e dei fiumi". Ci sono oltre 2.800 ettari di parchi, sentieri escursionistici e una passeggiata lungo il fiume. Qui è possibile fare escursioni a piedi, fare una passeggiata o un picnic. Rockford ha anche molto da offrire agli amanti dei musei. Guidare a Rockford Art Museum con auto a noleggio o visitare il Burpee Museum of Natural History. Potrete assistere a spettacoli, concerti e musical nell'ex Varietétheater e nel Filmpalast Coronado Performing Arts Center.
Quali sono i punti salienti da non perdere in Illinois?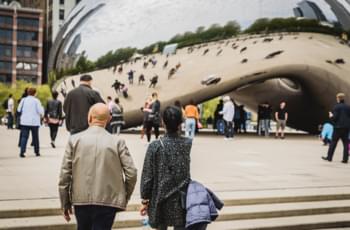 Cloud Gate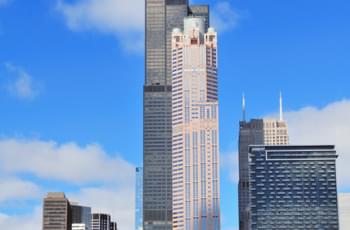 Torre Willis
Se si viaggia in Illinois in auto a noleggio, è possibile raggiungere tutte le vostre destinazioni in modo flessibile e indipendente. Crea la tua lista di viaggi individuale con le cose da non perdere e visitali ogni volta che ne hai voglia. Non dovreste dimenticare le seguenti attrazioni nella vostra lista:
Cloud Gate (detto anche "The Bean"): scultura a forma di fagiolo a Chicago
Willis Tower: l'edificio più alto della città di Chicago
Grant Park: Villaggio nella contea di Kankakee
Eagle Planetarium: Planetario e Museo dell'Astronomia di Chicago
USA Esplora altri stati del mondo con un'auto a noleggio
Prendere un viaggio su strada di noleggio auto ed esplorare gli stati confinanti dell'Illinois.
Indiana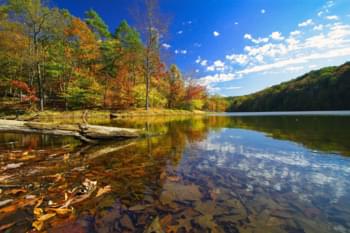 Lago di Brown County State Park
Lo stato americano dell'Indiana si trova nel Midwest del USA. Guidare in auto a noleggio in uno dei parchi dell'Indiana o visitare un museo. Cosa ne pensi delle seguenti attrazioni?
Dune dell'Indiana Dune National Lakeshore
Parco del torrente Aquila
Foresta Nazionale Hoosier
Museo Statale dell'Indiana
Brown County State Park
Iowa
Nello stato americano dell'Iowa, la vita ha un ritmo ancora più tranquillo. Prendere il volante della vostra auto a noleggio e regalarsi un giro attraverso l'Iowa. Godetevi la bellezza della natura, visitate i musei o andate allo zoo. Iowa ha tutto quello che il tuo cuore desidera. Con l'auto a noleggio si può guidare in modo flessibile per il Maquoketa Caves State Park o al lago Okoboji occidentale. Anche il Monumento Nazionale dei Monti dell'Effigie e il Campidoglio dello Stato dell'Iowa meritano una visita.
Missouri
Visita lo stato americano del Missouri con i due fiumi Mississippi e Missouri. Godetevi i paesaggi naturali, scoprite le cantine o ammirate le metropoli del Missouri. Il Lago degli Ozarks, il Museo della città e il Parco delle sculture di Citygarden vi aspettano! Con un'auto a noleggio è possibile raggiungere le vostre destinazioni individuali in qualsiasi momento. Buon divertimento nel Missouri!