Viaggiando attraverso Brisbane in auto a noleggio
La terza città più grande dell'Australia, Brisbane, è la capitale del bellissimo stato del Queensland e può essere facilmente scoperta con un'auto a noleggio. Godetevi la posizione panoramica sul fiume Brisbane quando noleggiate un'auto. L'area intorno a Brisbane offre una piacevole miscela di monumenti storici e l'atmosfera moderna di una grande metropoli. Brisbane, insieme allo stato circostante del Queensland, è ideale per esplorare in auto a noleggio. Con Car RentalCheck è possibile confrontare le offerte di diverse società di autonoleggio e scegliere l'offerta che meglio si adatta alle vostre esigenze.
Il mite clima subtropicale che prevale in questa parte dell'Australia offre le condizioni ideali per visite turistiche ed escursioni estese nella regione. Brisbane è anche conosciuta come la città del Nuovo Mondo, in quanto dipende da un'industria rispettosa dell'ambiente e da un ambiente pulito.
Veduta aerea di Brisbane, Queensland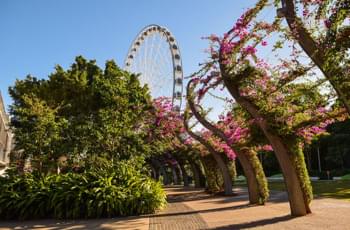 Rilassatevi al Southbank di Brisbane
Dove posso noleggiare un'auto a Brisbane?
A causa delle dimensioni della città troverete noleggio auto in tutte le parti di Brisbane. Il modo più comodo per trovare l'auto dei vostri sogni, tuttavia, è quello di utilizzare le offerte di una delle società di autonoleggio direttamente all'aeroporto di Brisbane.
L'aeroporto più vicino a Brisbane è naturalmente l'aeroporto di Brisbane (BNE), che dista solo 17,4 km dal centro città. Ci troverete una varietà di aziende di noleggio auto che offrono diverse opzioni. Le varie compagnie di autonoleggio all'aeroporto di Brisbane si trovano al livello 2 del terminal internazionale e al livello 1 del terminal nazionale.
Quali sono le condizioni per prenotare un'auto a noleggio a Brisbane?
Questi differiscono da azienda a azienda. Alcune compagnie di autonoleggio offrono una varietà di assicurazioni auto, ma la scelta più sicura è quella di scegliere un'assicurazione completa con o senza franchigia. Inoltre, è necessario considerare se si desidera registrare un secondo conducente. Soprattutto per le lunghe distanze attraverso l'Australia questo può essere pratico. E' meglio prenotare direttamente un secondo autista. Basta filtrare il nostro sito web per le offerte che includono già un secondo autista.
Regole del traffico importanti quando si guida intorno a Brisbane:
L'Australia segue la circolazione a sinistra. Se non siete a vostro agio a guidare sul lato sinistro, dovreste quindi allenare le vostre abilità nelle zone meno frequentate. Si consiglia inoltre di noleggiare un'auto con cambio automatico. Cosi' non dovrai esercitarti a cambiare con la mano sinistra.
Ricordate che le sanzioni per le infrazioni stradali in Australia sono estremamente elevate. Pertanto, è necessario rispettare sempre i limiti di velocità.
Tutti i passeggeri dell'auto devono allacciare le cinture di sicurezza.
Ci sono multe elevate se i conducenti vengono sorpresi a bere e guidare. Il tasso di alcolemia ammissibile è dello 0,05%.
Ho bisogno di una patente di guida internazionale per noleggiare un'auto a Brisbane?
In alcuni stati australiani la patente di guida UE è accettata dalla polizia e dalle società di autonoleggio (solo se tradotta in inglese!). Tuttavia, la maggior parte dei paesi richiede che i conducenti siano in possesso di una patente di guida internazionale. Ricordate che dovete sempre portare con voi la patente di guida originale.
Ci sono animali selvatici per le strade intorno a Brisbane?
Dovresti essere sempre in guardia contro animali come canguri, vombati e koala. Inoltre, ci sono molte strade non recintate su cui il bestiame pascolerà sui campi adiacenti - quindi si dovrebbe sempre guidare con prudenza.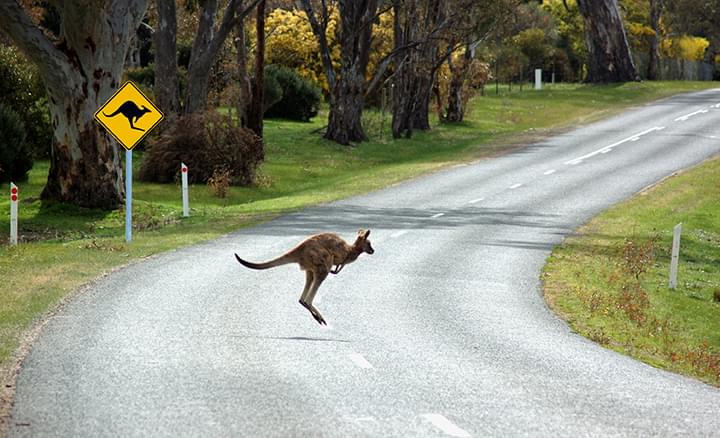 Attenta a dove metti i piedi: Canguri per strada
Esplorare i dintorni di Brisbane con un'auto a noleggio
I viaggiatori che scelgono Brisbane come meta di vacanza dovrebbero considerare anche la possibilità di spostarsi nei dintorni. Nei dintorni della città ci sono diverse mete escursionistiche che valgono una gita di un giorno.
Surfers Paradise
Paradiso dei surfisti
Surfers Paradise, con le sue spiagge mozzafiato in abbondanza, è la scelta ideale per chi ama la vita all'aria aperta. Il villaggio si trova al centro della pittoresca Gold Coast. Offre un'ampia selezione di ristoranti sofisticati e moderne strutture commerciali. Surfers Paradise è anche una base ideale per visitare attrazioni come Warner Bros. Movie World.
Springbrook Nationalpark
Parco Nazionale Springbrook
Il Parco Nazionale di Springbrook è un must assoluto per tutti coloro che soggiornano in aree remote. Il parco è ricco di bellissime cascate, gole vulcaniche e alberi di eucalipto.
Tamborine Mountain
Monte Tamborine
Il Monte Tamborine è un altro gioiello naturale da non perdere nella zona di Brisbane. Fa parte dell'entroterra della Gold Coast e offre un bellissimo equilibrio tra patrimonio culturale e meraviglie naturali.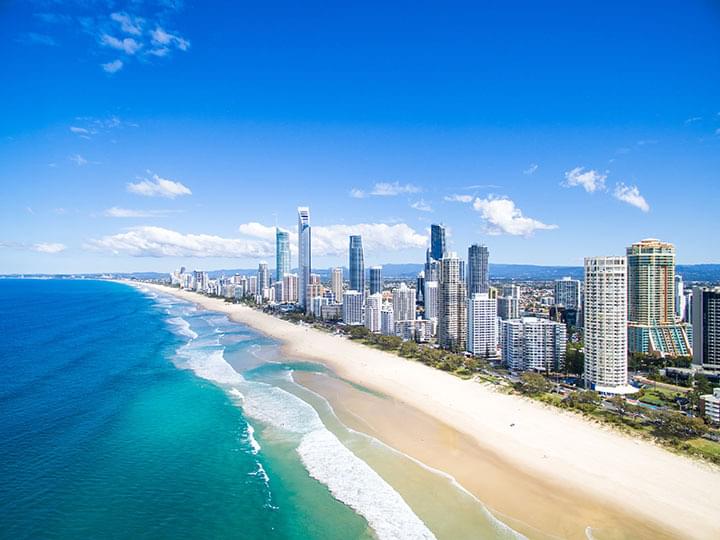 Skyline di Surfers Paradise sulla Gold Coast
Noleggio auto Brisbane - scopri le attrazioni
Brisbane, città verde e amica del turismo, offre una varietà di attrazioni interessanti da non perdere.
Brisbane's Cultural Centre
Centro culturale di Brisbane
Se volete iniziare il vostro viaggio attraverso la città con una passeggiata lungo il fiume Brisbane, dovreste visitare il Brisbane's Cultural Centre, che include luoghi interessanti come il Queensland Performing Arts Centre, la State Library of Queensland e la Gallery of Modern Arts.
Brisbane Botanic Gardens
Giardino botanico di Brisbane
I viaggiatori che preferiscono luoghi tranquilli dovrebbero recarsi al Monte Coot piuttosto che ai Giardini Botanici, da dove si gode di una vista mozzafiato di tutta la città. Questa attrazione si trova a circa 7 km da Brisbane, ma merita una visita. All'interno ci sono 52 ettari di orticoltura e alcuni giardini tematici.
South Bank è un'altra attrazione di Brisbane che merita una visita. L'area è ricca di passeggiate, piazze e parchi creati per l'Esposizione Universale del 1988. Si può anche nuotare nella laguna artificiale, un passatempo popolare per gli abitanti di Brisbane.
Story Bridge Adventure Climb
Storia Ponte Avventura Avventura Salita
Se siete a Brisbane, non potete perdervi lo Story Bridge Adventure Climb. Il ponte è una delle attrazioni più popolari della città. Offre un tour di due ore che garantisce panorami indimenticabili della città.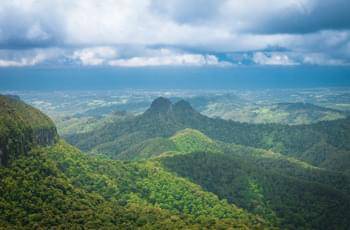 Parco Nazionale Springbrook nel Queensland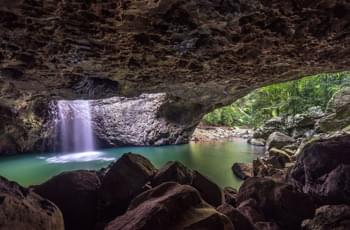 Primavera nel Parco Nazionale Springbrook